Philately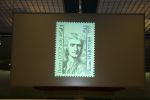 Large Stamp Projector
In an endless loop, visitors will see, from the large screen, a projection of Stamps of prominent topics from all over the world.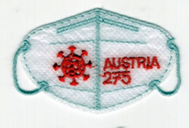 3-Dimensional Stamps
Visitors can slide the magnifying glass back and forth to view the specially selected stamps. Click on the screen below the magnifying glass will give information of different languages in details.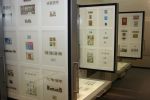 Stamp Collection
Visitors can pull out horizontal and vertical sliding drawers and appreciate the Stamps of all the countries in the world.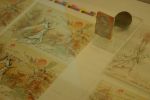 How Macao Stamps are Made
In the display cases, visitors can see the original artwork pieces of Macao Stamps, different color proofs of Stamp printing process and some of the finished products of Macao Stamps.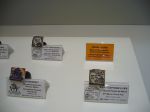 Postmark
In the display cases, visitors can see the collection of postmarks.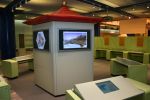 Stamp Lounge
The place is designed to achieve a prestigious atmosphere and to be a pleasant place to discover Stamps. Visitors can explore the huge Stamp Collections on the terminal with a touch-screen interface, and appreciate the collections on a large screen.In addition, to create more fun and interactivity. we have designed some interactive games, including "Stamp Quiz", "Card Game", "Guess Stamp" and "Stamp Puzzle".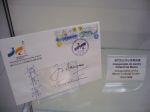 Philatelic Treasure
Here, visitors can appreciate the precious Stamp and other Philatelic Collection.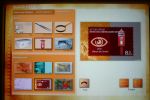 Design your own Stamp
Visitors can compose their own stamps with different backgrounds and objects. There are 18 sets of templates under the topics of postal & philately, festivals and telecommunications. Visitors can select and print their own stamps out as souvenirs.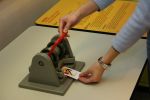 Stamp Perforation
Visitors can insert their Stamp printout to the Perforating Machine, where the Stamp will be perforated into rectangular or oval shape and then, it can be detached easily.