Snapshot! Postal Facilities Photo-taking Contest
Snapshot! Postal Facilities Photo-taking Contest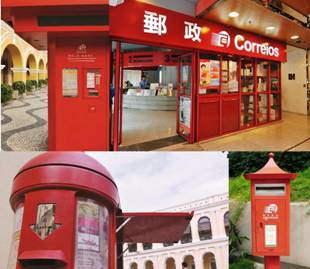 Introduction
Whether you are a resident or tourist, you may remember the Macao Post Headquarters, the landmark on Avenida de Almeida Ribeiro. You will see special red pillar boxes that look like Chinese pavilions on the streets. Actually, the postal network and facilities cover different places of Macao and islands. They all help to make the beautiful city of Macao.
We would like to invite you to join the "Snapshot! Postal Facilities Photo-taking Contest" so that you can creatively record the postal facilities with your mobile phone or camera.
Postal Network:
REGULATIONS
I. Objective: To be familiar with the postal network and facilities of Macao.
II. Participation: All Macao SAR residents, who are 6 years old or above on/before 01/01/2016 are eligible for participation. Each participant can submit only one photo.
III. Requirements of Entry:
Each participant should submit a photo of any outdoor postal facility of Macao Post, in Macao, Taipa or Coloane. The photo may contain pillar boxes, kiosks, stamp vending machines, postal vans or post office buildings, etc. The way of expression is not limited.
Photo size: Minimum from 2MB to maximum 10MB.
Photo format: .JPEG and 800 mega pixels or above is recommended.
Colored or black-and-white photos. Computer generated photos or photos processed with special effects will not be accepted. Appropriate adjustments to photo brightness, contrast and color saturation are allowed.
The image of the photo cannot contain any indecent or illegal content. It also cannot contain promotion or advertisement of any commercial product or service.
The submitted work must be originally created and cannot be previously published in public, awarded any prizes or bound by any copyright restrictions.
IV. Registration and Submission of Entry:
Submission of Entries: by email only. Please send the Registration Form together with the photo to the mailbox: info@macao.communications.museum,
Deadline: from now till 22:00:00 on 11/11/2016 (Friday), as per the time displayed on the museum's computer system.
V. Evaluation:
The organizer will invite professionals in the fields of art, photography and culture to be the judges. The results are subject to the final judgment of the judges. Criteria of evaluation will be based on Creativity (70%) and Shooting Techniques (30%) exhibited in the photo. Late submissions will not be evaluated.
VI. Prizes:
1st prize - Coupons valued at MOP500 and one set of mini postal models;
2nd prize - Coupons valued at MOP300 and one set of mini postal models;
3rd prize - Coupons valued at MOP200 and one set of mini postal models.
VII. Declaration:
Personal data collected in the Registration Form will only be used for the arrangement of the activity and handled according to "Personnel Data Collection Policy Statement" of Macao Post.
Staffs of Macao Post are not allowed to participate in the contest.
All submitted entries will be exhibited at Communications Museums and/or other locations. The organizer reserves the rights to copy, publish and translate the entries for other exhibitions and promotion without prior permission of the participants or remuneration.
Macao Post owns the copyright and usage right of the winning works.
Any issues not covered in the regulations and clarification of doubts will be the exclusive competence of the organizer.